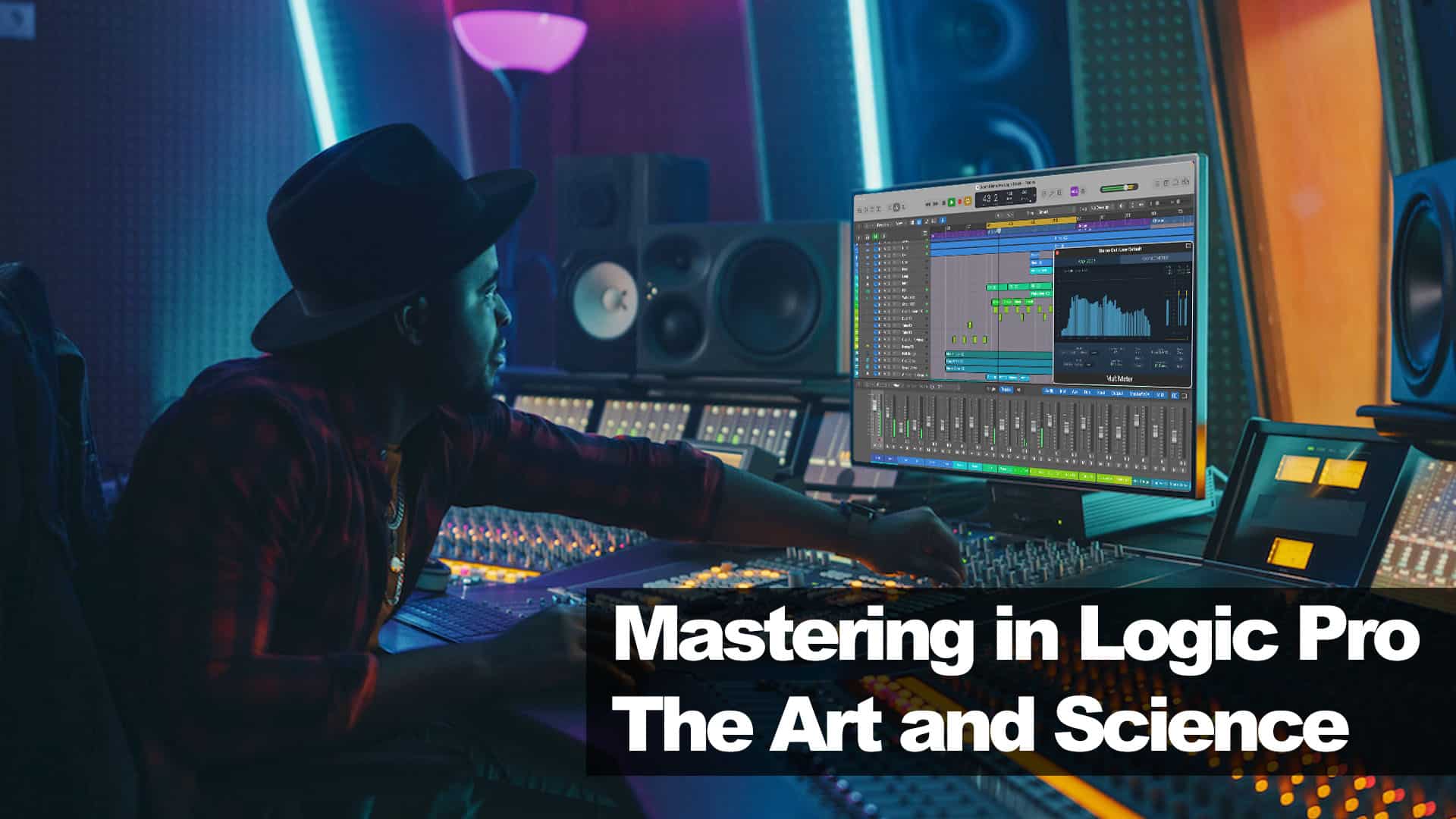 The Art and Science of Mastering in Logic Pro X
Many want to find out how to use Logic Pro, one of the most popular DAWs in the music world today. Mastering in Logic Pro can be overwhelming, but it doesn't mean it's impossible.
You just need to remember that mastering is art and science at the same time.
If you want to get an overview of mastering with Logic, this article was created for you.
(Note: In November 2020, Logic Pro X was renamed "Logic Pro" with the release of macOS Big Sur)
You may know by now that mastering is the final step in the creation of a song or a series of songs (albums), and that occurs after it has already been recorded, edited, and mixed.
It's safe to say that mastering is the audio process that serves to finalize a song and it ensures that the track sounds good, and is optimized for every audio playback device, including iPhones, club audio speakers, headphones, and car stereo speakers.
The final master must also be ready for distribution in any format: mp3, iTunes, vinyl, CDs.
Therefore, with audio mastering, we make sure that our song or album sounds coherent, uniform, clean, and free of defects, clicks, pops, and distortions.
It all sounds exciting, doesn't it?
What do you need for mastering?
If you want to get into the world of mixing and mastering, you will need the right equipment.
So let me show you what you'll need for mastering:
A DAW (Digital Audio Workstation) such as Apple Logic Pro
Audio interfaces
One or more equalizers
One or more compressors
Harmonic enhancers
Multiband compressors
Plugin for intervention on the stereo image
Limiters
Monitors / Loudspeakers
Plugins for mastering
What is Logic Pro exactly?
Logic Pro is a DAW (Digital Audio Workstation) – a software that allows you to record sounds, sample them, and then be able to work on post-production (mixing and mastering).
Since it is Apple's software, you must have a Mac in order to use it.All in all, Logic Pro is for creating a song from scratch and producing it from start to finish.
Why choose Logic Pro for mastering?
Whether you want to mix, edit, write songs, or make beats, Apple Logic Pro is one of the best DAW software for MAC.
It has a modern interface to get quick results and provide more power when needed. With a wide range of effects, instruments, samples, and collection loops, Logic Pro provides a comprehensive toolkit for creating incredible sounds.
Before getting into more details, please note that there are some system requirements to work with Logic Pro:
6GB of disk space for a minimal installation or up to 63GB of disk space for a complete Sound Library installation.
4GB of RAM.
Graphics card compatible with OpenCL or Intel HD Graphics 3000 or later.
256MB of VRAM.
Make sure that these conditions are met before investing in your Digital Audio Workstation.
The most basic settings in Logic Pro
Let's see some of the most basic settings when it comes to Logic Pro X.
After installing Logic Pro, the first thing you need to do is to create a new project.
At this step, you have 5 options:
Software Instruments: to record MIDI using Logic sound libraries;
Audio: if you want to record using your sound card and microphone.
External MIDI: if you want to record using external MIDI software;
Guitar or Bass: if you want to record a guitar or a bass and then Logic loads you the default Patches and opens the library.
Then clicking on create Logic creates the type of tracks you have selected.
Now it's time to access and modify the basic settings of Logic Pro. To do this, go to Logic Pro,  go to Preferences and click on Advanced Tools.
By activating the "Show Advanced Tools", many other features will appear that can help you produce your own music:
Audio: activate the destructive features
Surround: useful for film productions that need multi-output sound such as 5.1 and not stereo;
MIDI: allows you to use MIDI and process it both in input and output;
Control Surface: allows you to create and edit any control function;
Score: allows you to use all the features to create and edit scores;
Advanced Editing: activates all the advanced functions for audio editing.
Project Ending
Another important feature you will meet in Logic Pro is the buffer size.
The buffer size is a very important parameter that defines the way the computer's CPU works.
The higher the buffer size, the less the computer will be under strain but the latency in listening to the audio tracks will be higher. The lower the buffer size is, the more computer resources will be exploited but there will be no listening latency.
If you need a more comprehensive, in-depth overview on how to use Logic Pro, just let me know in the comments and I'll be happy to get you a complete tutorial article on my blog.
Mastering tips and tools in Logic Pro X
Now we know that mastering is the final stage of making your music complete, something that will make your song shine. And now, I would like to give you some basic tips you need when mastering in Logic Pro:
You need a good mix to start
Mixing and mastering go hand in hand, there is no question about it. In order to have a very good-sounding master, you need a very good mix too. Therefore, I definitely recommend you learn and watch as many tutorials as possible. So first learn how to create the perfect mix. Then you can dive into mastering.
Check the amount of headroom present in your mix
Headroom means what level your mix is peaking – your master channel dB meter will show you this information.I recommend you keep this interval between -12 dB to -8dB. This way you can avoid clipping while mastering the song.
The audio format should be WAV or AIFF. Make sure that you use a 24-bit resolution.
This step allows you to analyse frequencies and check the technical side of your track.
For this step, you can use Logic Pro's master compressor called multipressor. Though compression is usually ultra-fine, you can get just everything together in a more controlled way.
The equalizer will change the level of different frequency bands.
It's important to remember that an equalizer needs to be used in a very subtle way during the mastering process.
Saturation will add harmonic frequencies. It's basically a subtle form of distortion to your audio. Free Mastering Plugins such as Phat FX, Logic Pro's Exciter.
Limiting is similar to compression, but it's a bit more 'assertive'. Our aim with limiting is to make your track as loud as possible while avoiding any clipping or distortion.
Though Logic Pro offers plenty of opportunities with its built-in functions and mastering plugins, you may want to add some great features to your song by using additional ones.
Remember that a professional mastering engineer uses different plugins and effects to achieve the best final result possible.
You can find some of the most useful plugins in our next section.
Best mastering plugins in Logic Pro X : Linear Phase EQ, Match EQ, Multipressor, VCA Compressor, Spreader, Exciter, Phat FX, Limiter, Multimeter.
Mixing and Mastering Plugins for Logic Pro X users
Though Logic Pro has a great free stock plugin selection, you may want to experiment with some additional plugins to open up new production possibilities.
If you are looking for professional vocal sounds, this collection of presets is for you. They've been designed for Logic Pro, and you can just apply them to your vocal tracks.
Mixing Templates – Logic Stock
Use these Hip-Hop and R&B sessions precisely mixed and mastered with stock plugins to get an ideal starting point for mixing your vocals and instrumentation.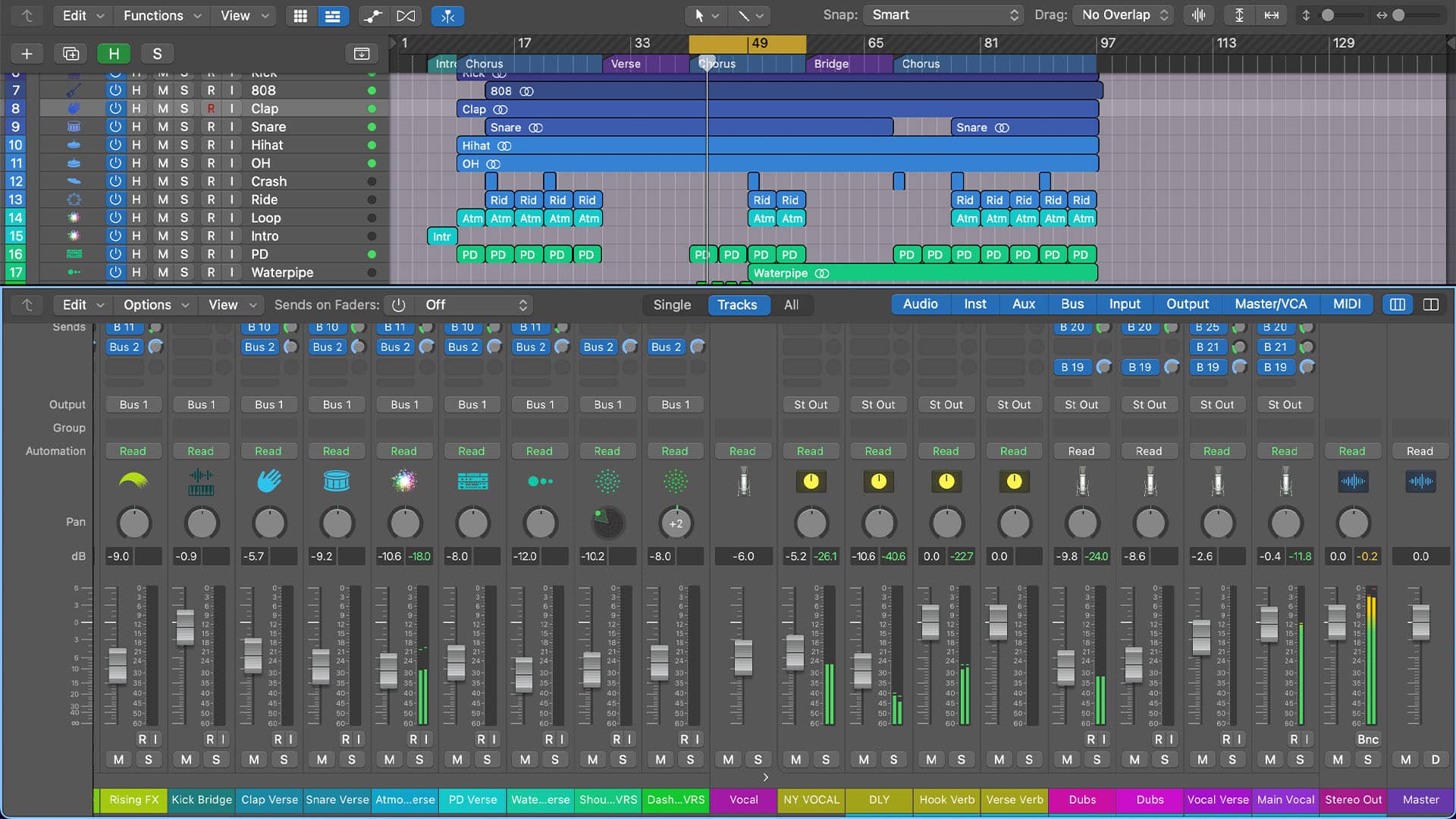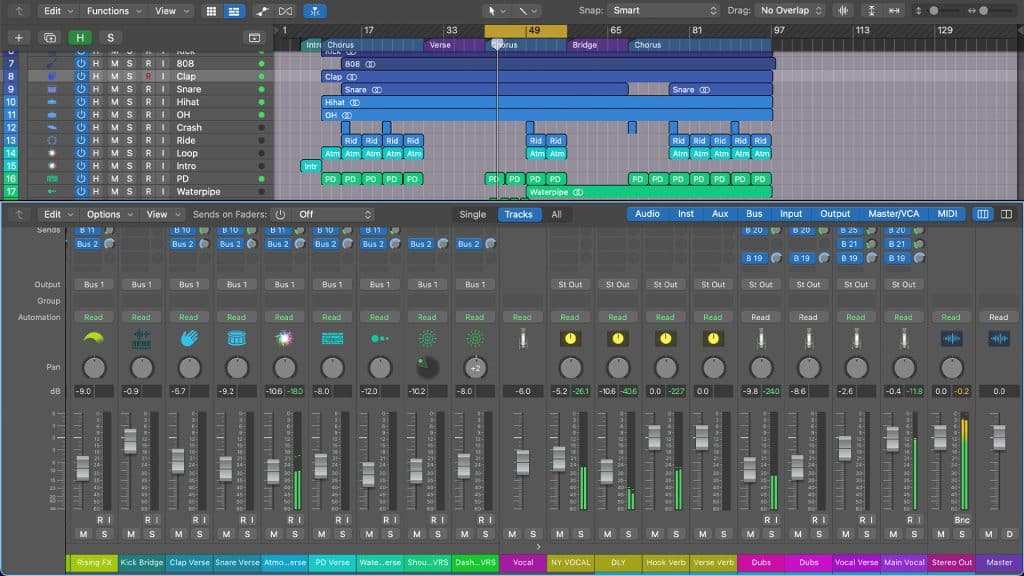 These DAW templates were designed for Logic Pro for maximum efficiency.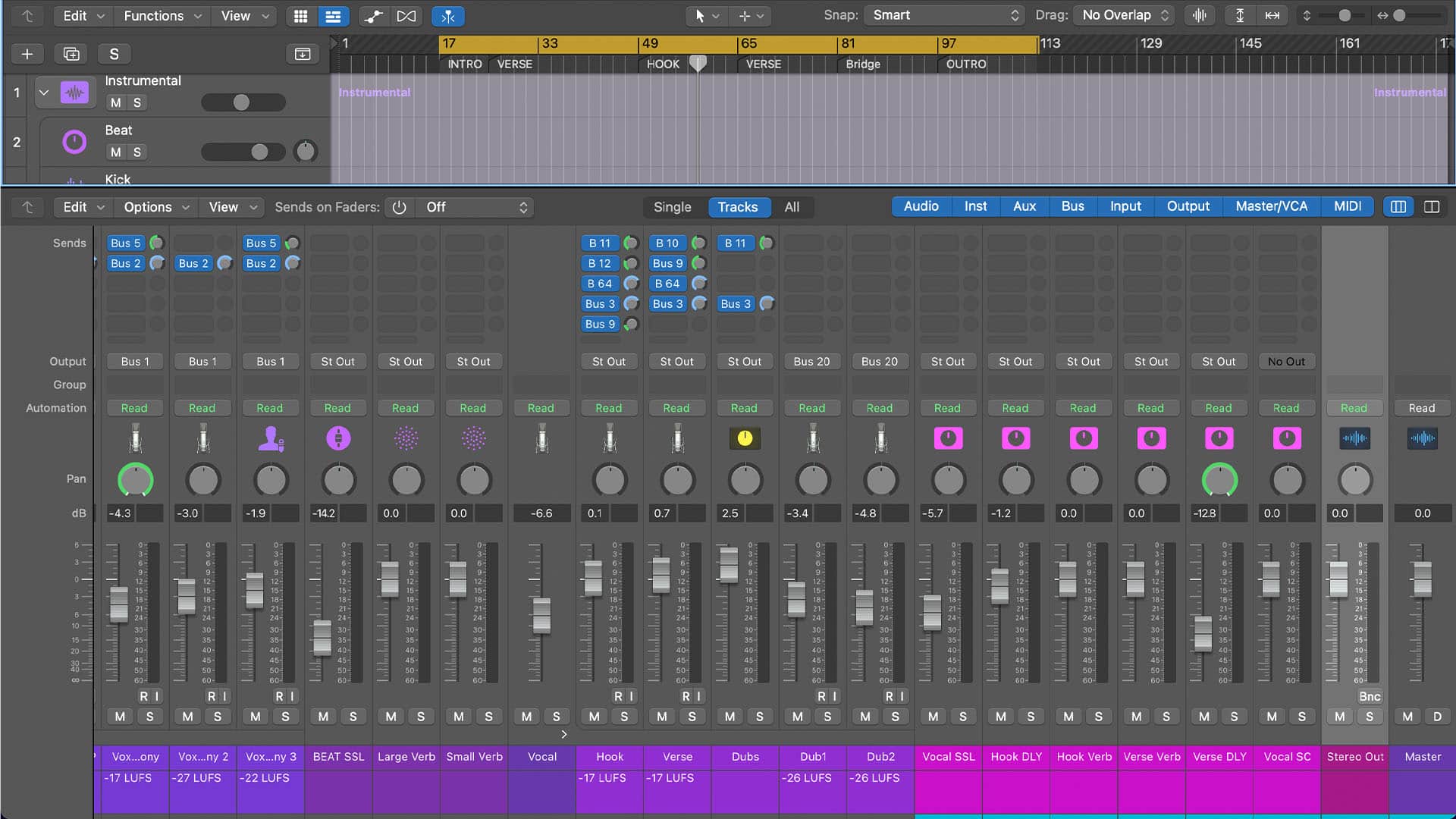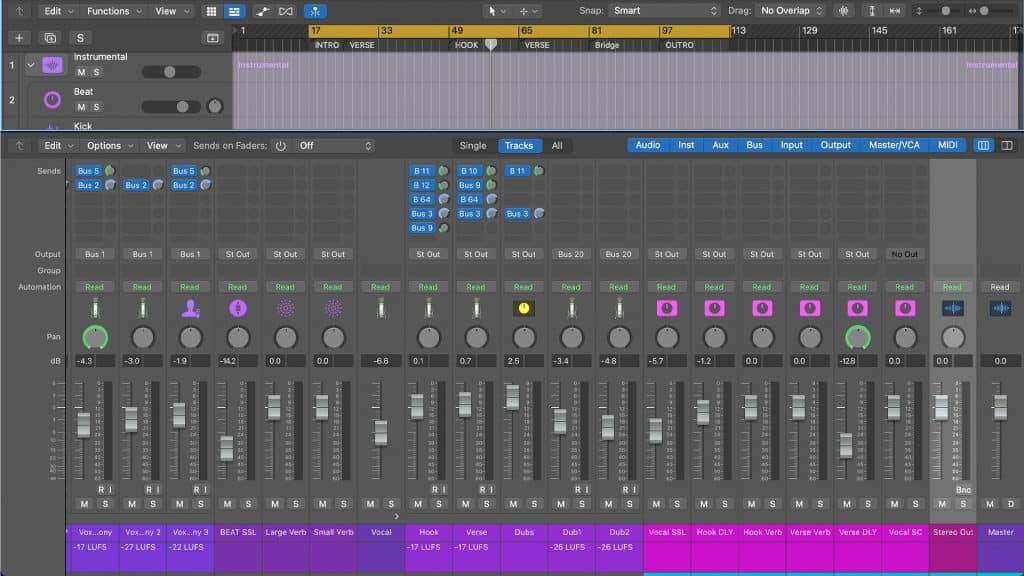 Should I hire a mastering engineer or do the mastering myself?
If you are wondering whether you should hire a mastering engineer or do the work yourself, it ultimately depends on who you are creating the music for.
If it's only for your friends and family, or you're just starting out in music production, then of course you can do the mastering yourself.
If you are more serious about it, and you want your music to be heard on the radio, online, on all the streaming services, and played with different devices, then you probably want to hire a professional mastering engineer.
It's important to know that mastering is not going to change your song, but it will give it that extra it needs, and it will enhance your song thanks to the mastering engineer who has very tuned ears.
However, with the right equipment and great plugins, you can obtain great results, but you also need certain essential prerequisites:
Excellent listening conditions: an acoustic environment without enormous defects, combined with good home studio monitors, or professional headphones to avoid the acoustic problems provided by a normal room.
A great mix is absolutely fundamental: a song will hardly sound good after mastering if the quality of the mix is ​​not at an optimum level. With mastering, we correct and improve a mix, but we won't be able to change it.
A second listening system (optional but absolutely recommended).
Extensive knowledge of the theory and tools we use for mastering.
Adequate and professional equipment: a DAW like Logic Pro can help you a lot, also, there are some professional plugins that will make your job easier. Look at some of them here:
Logic Pro is a software for all musicians, including electronic music producers, developed for the Mac OS platform. With Logic Pro you can create and produce quality music, and it will be a great tool when mastering your tracks.
It is designed both for those approaching this world for the first time and for professionals in the music sector.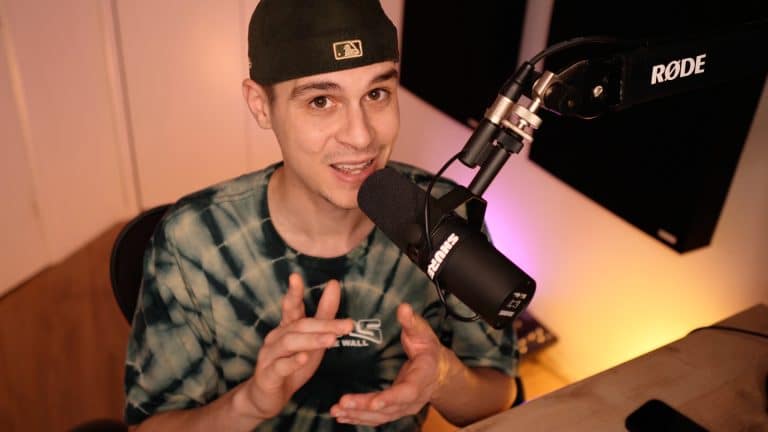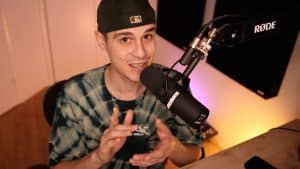 Vocal Mixing
The Complete Guide to Recording Vocals at Home Share This Post In the dynamic world of music production, the ability to record vocals at home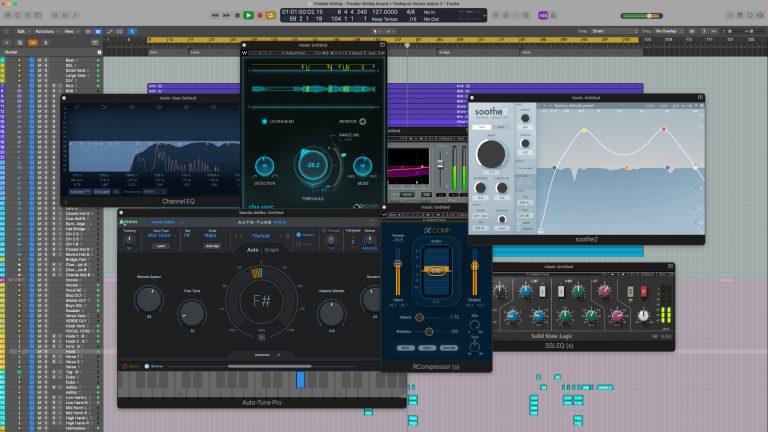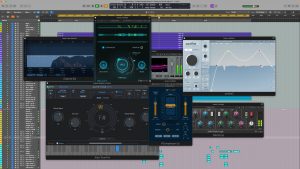 Mastering
Must-Know Vocal Mixing Essentials: 15 Steps to Pro Vocal Sound Share This Post Vocals are the heartbeat of your mix. Nail them, and your songs